Soneto a Cristo Crucificado: "No Me Mueve, Mi Dios"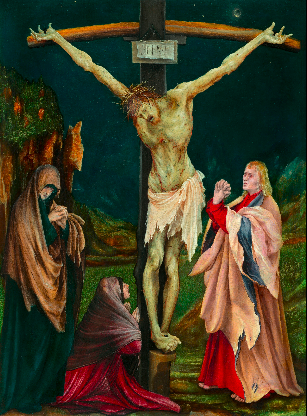 Setting by Domenico Mazzocchi. Rome, 1640.
Arrangement for Baritone, Harp, and Cello, Art Eschenlauer, 2017.
Domenico Mazzocchi (1592-1665) wrote this setting of the sonnet to the crucified Christ, "No Me Mueve, Mi Dios".
Mazzocchi, Domenico. Musiche sacre, e morali : a una, due e tre voci. 1640, Rome, Lodouico Grignani, pp 9-11.
(facsimile catalog record at USA Library of Congress http://lccn.loc.gov/90753246)
Online browsable edition http://www.bibliotecamusica.it/cmbm/viewschedatwbca.asp?path=/cmbm/images/ripro/gaspari/AA/AA278/
from the music library of Bolgona, catalog record http://www.bibliotecamusica.it/cmbm/scripts/gaspari/scheda.asp?id=6459
Art Eschenlauer added words in English and added the harp part to Mazzocchi's unfigured bass.
This song is technically very challenging to sing (at least for me), particularly the melismata.
The piece could certainly be performed at more than 80 beats per minute - it's just that I can barely keep up at that pace.
It is my hope that this performance, notwithstanding its defects, will inspire others to sing or arrange this piece.
audio
Printable scores and parts
Source used by MuseScore to produce scores and parts
Other links
Previous edition (from 2015) scored for Baritone, Harpsichord, and Double Bass
Other arrangements presented by skilled performers may be found at:
---
Poem
The sonnet "No Me Mueve, Mi Dios" is anonymous, probably written during the early 16th Century.
It was known to and disseminated by the first Jesuits some one hundred years before the first known printed copy, which is dated 1628.
Traditionally, it has been has been recited devotionally or while receiving the eucharist.
[Huff, Mary Cyria. The Sonnet "No Me Mueve, Mi Dios" - Its Theme in Spanish Tradition. 1948, Washington DC, The Catholic University of America Press. http://lccn.loc.gov/a48008665]